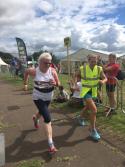 Yoga with Runners in Mind
Currently looking for a suitable venue for a Sunday evening class. No classes at present. Sorry.
Classes are traditional hatha yoga sessions, ( based loosely on Iyengar style teaching, including concentrating on improving alignments and holding postures to develop strength and stamina as well as suppleness ) . with a period for warming up, for standing work, and for balancing postures. Postures that can be used to help some of the problems runners experience will be taught.
At the end of each class there will be a relaxation session.
What do you need? You need to wear clothes you can stretch in, a yoga mat, and then if you have a blanket do bring it along and if you have a martial art belt, bring that too. Iyengar students who have their own belts and blocks do bring the blocks as well. I have a few blocks and belts in class but not many.

You don't have to be an elite runner, or even a runner to come along. Neither do you have to be mega-flexible or mega-strong.

The postures will all be offered as they can be built up, so students can practice at their individual levels without feeling the need to copy any other student. Usually the practice of Hatha Yoga brings more flexibility, strength and stamina to a student's body but the process can be gradual, since Hatha Yoga is only one strand of eight strands that a yogi should follow and there is no such thing as being good at Yoga, there is simply "I practice yoga and it makes me feel good".