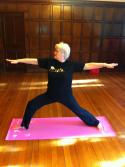 Do not be afraid, for I am with you. Paid ag ofni, yr Wyf fi gyda thi.
Isaiah 41:10
So many times, I have whispered these words to myself. May they help you too.

I wanted to insert a Gif of a teddy bear sending you all a big hug but my IT skills aren't up to it. Consider yourself as being hugged by a teddy bear, channelling the love in the universe to you and to each one of us.

Glad you've found my site. I hope you will enjoy it. You don't need much space to practise yoga, so during these days when we are all having to stay at home, turn a small part of your room into your yoga sanctuary. Amazingly, yoga will help you keep your muscle tone, your strength and your stamina and bring you some inner calm.

Don't worry if you are not beautifully slim and flexible, you only have to do your best and feel your body respond and enjoy the postures. And somewhere along the line, you may suddenly realise that your arthritis isn't feeling as bad or your jeans are looser than they were... but that is just a bonus, a gift you receive when you start practicing yoga regularly.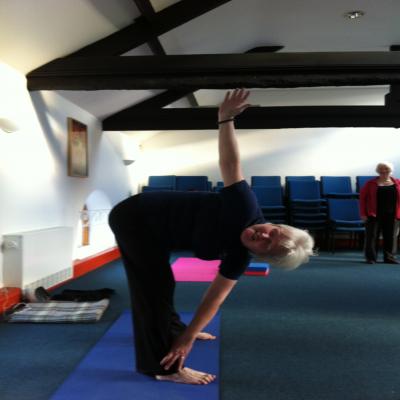 I learnt a style many years ago which is called Iyengar yoga, it has an excellent way of teaching Hatha Yoga. When I first started there were no qualifications needed to teach. You were simply taken to one side and told that they thought you were good enough to teach and would you start next week! Hatha yoga is one strand of eight that make up the yogic search for inner peace. Hatha yoga works on the body. Everybody can benefit from Hatha Yoga one way or another.
Yoga is terrific for helping back problems but you do need to have very specific attention to begin with before progressing into practicing the range of postures available. You also need to know how to manage your back problems and what you can safely do to exercise and strengthen your back. Have a look on the back care assessment page.

May there be light and love in your life,
Helen
Screening Awareness. I have done some training on this. Not sure how accessible they are at the moment but normally in Wales we have Breast Screening, Cervical Screening, ( both for ladies only) Bowel Screening and for men only Abdominal Aortic Aneurysm Screening. These tests can save your life so they are worth having. More information here.
file-1-194-Copy.JPG