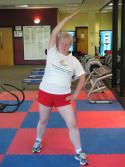 Exercises
A selection of back care exercises are available here.
The files you will upload here will take time. Please don't try from a mobile!
These are Word files, so your browser may want you to Save it either as Save Target or Save Link As when you right click it.
That will speed you up in future as you won't need to download every time.